返回案例
聚和为科技是用客户案例说话的程度专业网络公司,我们以技术为核心,专注网站建设、网页设计、域名空间,以下是我们部分客户的案例
YEMA AUTO 野马汽车
网页设计 · 网站建设 · 脚本开发 · ASP.NET+SQL+DIV+CSS+AJAX+JS+JQ
客户网址:http://www.yemaglobal.com/ 制作周期:25个工作日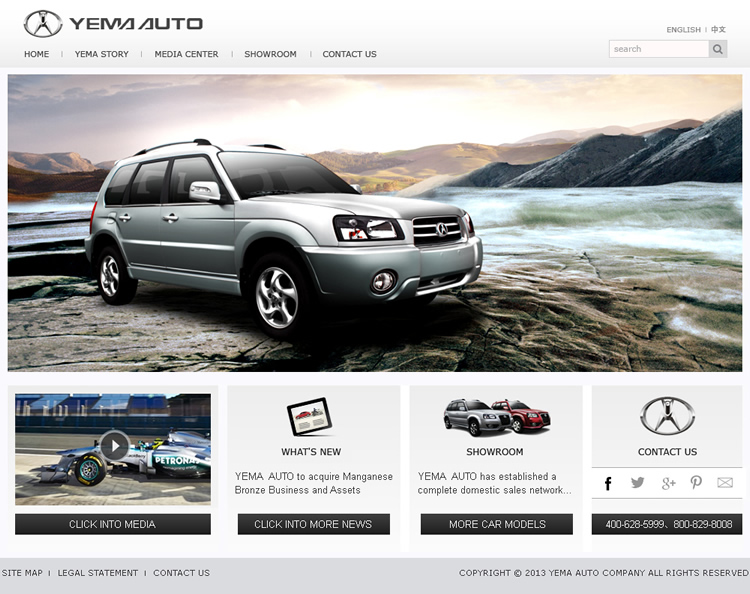 YEMA AUTO 野马汽车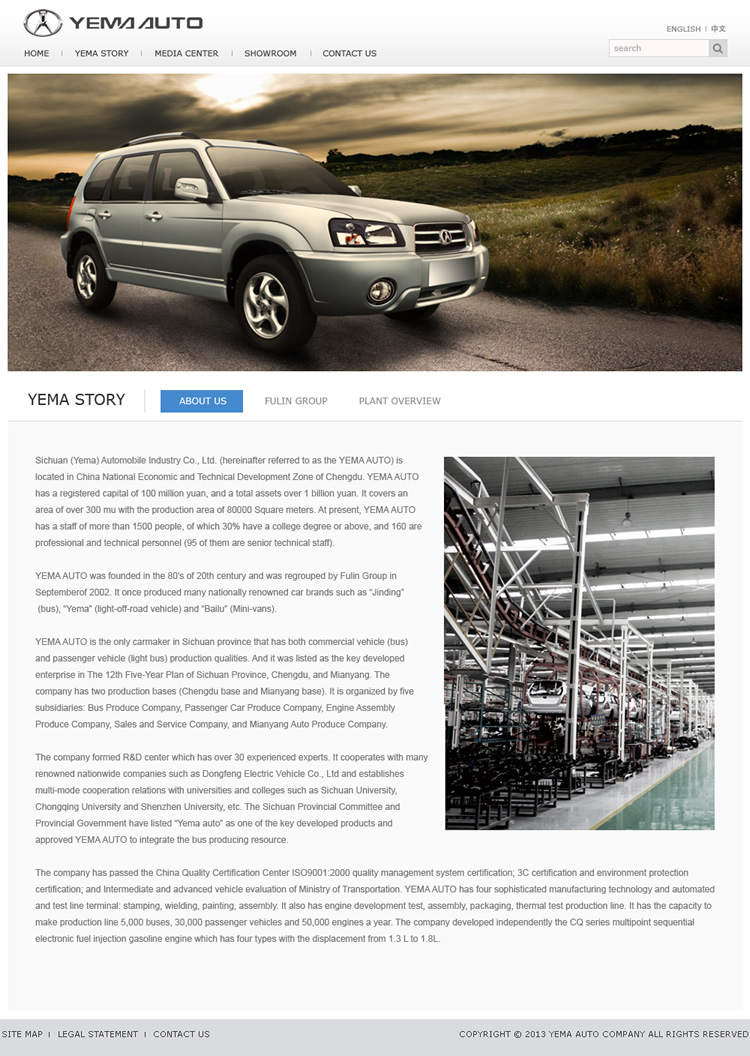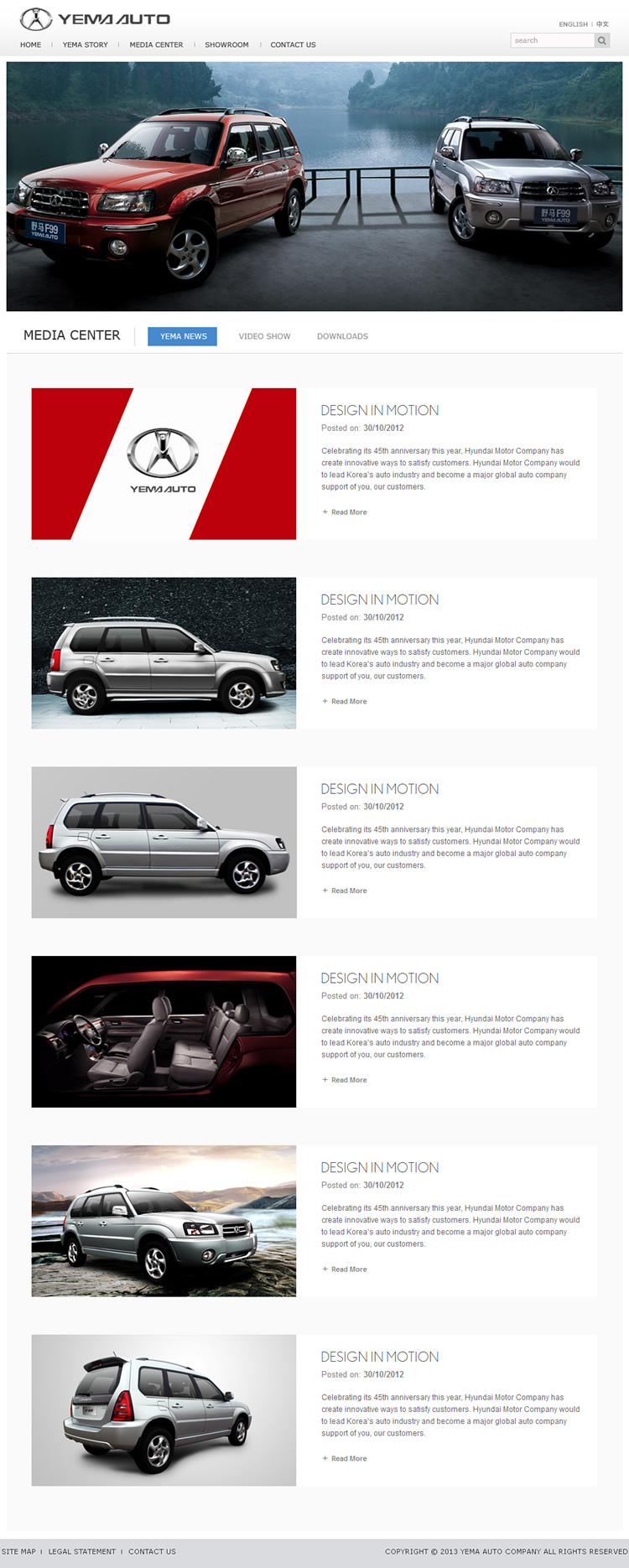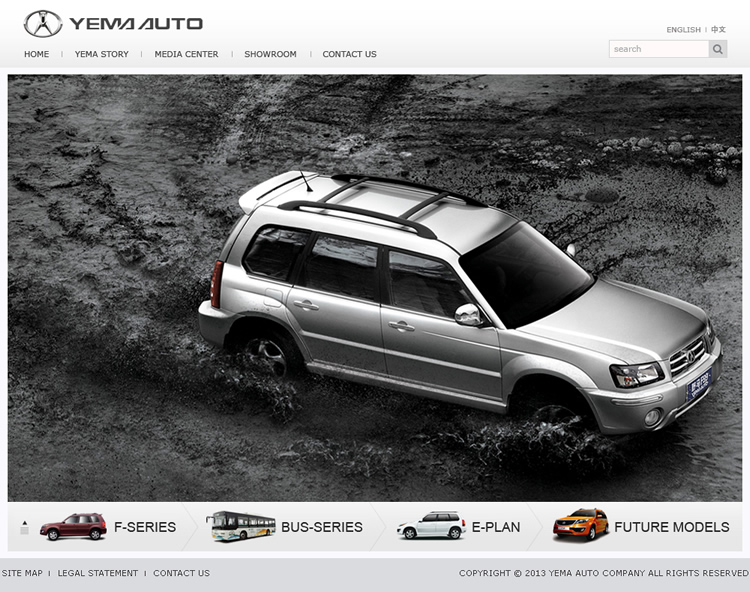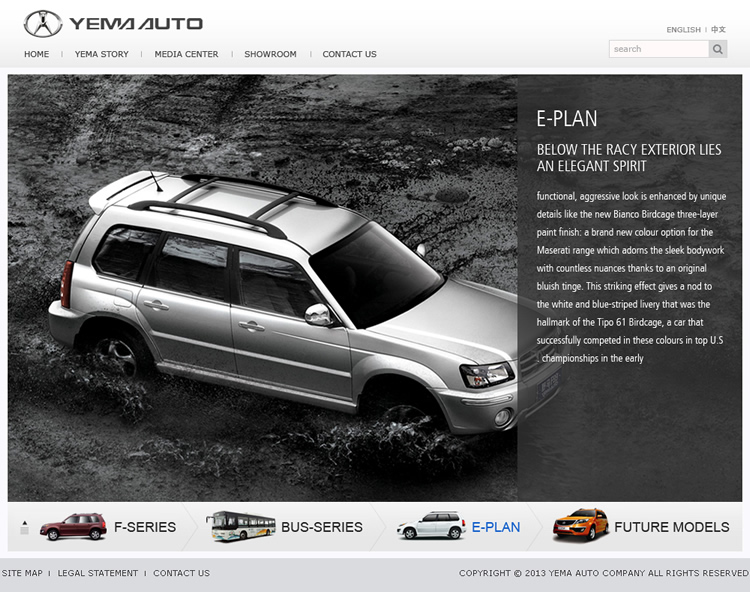 Sichuan (Yema) Automobile Industry Co., Ltd. (hereinafter referred to as the YEMA AUTO) is located in China National Economic and Technical Development Zone of Chengdu. YEMA AUTO has a registered capital of 100 million yuan, and a total assets over 1 billion yuan. It covers an area of over 300 mu with the production area of 80000 Square meters. At present, YEMA AUTO has a staff of more than 1500 people, of which 30% have a college degree or above, and 160 are professional and technical personnel (95 of them are senior technical staff).
YEMA AUTO was founded in the 80's of 20th century and was regrouped by Fulin Group in Septemberof 2002. It once produced many nationally renowned car brands such as "Jinding" (bus), "Yema" (light-off-road vehicle) and "Bailu" (Mini-vans).
YEMA AUTO is the only carmaker in Sichuan province that has both commercial vehicle (bus) and passenger vehicle (light bus) production qualities. And it was listed as the key developed enterprise in The 12th Five-Year Plan of Sichuan Province, Chengdu, and Mianyang. The company has two production bases (Chengdu base and Mianyang base). It is organized by five subsidiaries: Bus Produce Company, Passenger Car Produce Company, Engine Assembly Produce Company, Sales and Service Company, and Mianyang Auto Produce Company.
The company formed R&D center which has over 30 experienced experts. It cooperates with many renowned nationwide companies such as Dongfeng Electric Vehicle Co., Ltd and establishes multi-mode cooperation relations with universities and colleges such as Sichuan University, Chongqing University and Shenzhen University, etc. The Sichuan Provincial Committee and Provincial Government have listed "Yema auto" as one of the key developed products and approved YEMA AUTO to integrate the bus producing resource.
The company has passed the China Quality Certification Center ISO9001:2000 quality management system certification; 3C certification and environment protection certification; and Intermediate and advanced vehicle evaluation of Ministry of Transportation. YEMA AUTO has four sophisticated manufacturing technology and automated and test line terminal: stamping, wielding, painting, assembly. It also has engine development test, assembly, packaging, thermal test production line. It has the capacity to make production line 5,000 buses, 30,000 passenger vehicles and 50,000 engines a year. The company developed independently the CQ series multipoint sequential electronic fuel injection gasoline engine which has four types with the displacement from 1.3 L to 1.8L.